Celebrate arts in Alaska with food, wine, music and fun
---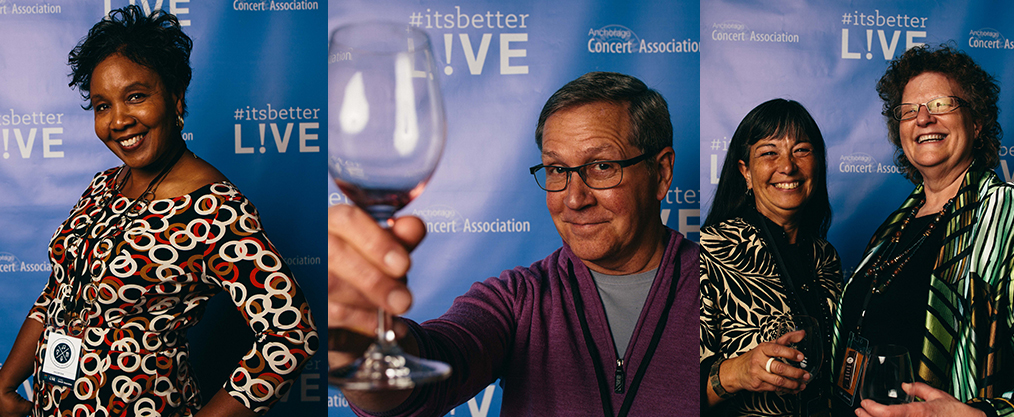 Eleven restaurants, backstage tours, Puddles Pity Party, and more – all at Anchorage Concerts All Access
Anchorage, AK – Celebrate performing arts in Alaska with Anchorage Concerts All Access, a behind-the-scenes evening of wine, food, music, and special guest appearances Thursday, Sept. 20, at the Alaska Center for the Performing Arts.
Attendees can take a backstage tour and hear crazy stories about artists from past Anchorage Concert Association seasons. Sample fine wines from around the world, courtesy of La Bodega and Specialty Imports. Taste delicious dishes from premier Anchorage restaurants. Bid for artist meet-and-greets, special show packages, dinners, house concerts, and more. Top off the night with a special performance of Puddles Pity Party, a 7-foot-tall clown who sings in a beautiful baritone (and sold out his last Anchorage show).
The terms "unique" and "one-of-a-kind" are often overused, but when describing a Puddles Pity Party show, they're an understatement. The tall clown mixes melodramatic anthems and comedic hijinks, without a single hint of irony. Puddles shot to stardom when he teamed up with Scott Bradlee's Postmodern Jukebox for an epic version of Lorde's hit "Royals," which has a staggering 23 million views, and increased his fandom on "America's Got Talent." The Boston Globe gushes, "It seems like a parody. But when Puddles opens his mouth to sing, it's beautiful. Operatic." In addition to his set at All Access, Puddles will perform two full shows Sept. 21 and 22 in the Discovery Theatre. Presented by Anchorage Concert Association. Tickets for Puddles Pity Party are available at CenterTix box office (263-ARTS) and anchorageconcerts.org.
Additional All Access performers include Alaska Fire Circus, Sankofa Dance Theatre, Alaska Dance Theatre, Emma Hill, Nick Carpenter, Meghan Holtan, Parlor in the Round, Quad Shot, Fiona Rose, Kevin Worrell, and Kat Moore.
All Access restaurant partners are 49th State Brewing Company, El Rodeo Mexican Restaurant, Ginger, Glacier Brewhouse, Humpy's Great Alaskan Alehouse, McGinley's Pub, Orso, Slippery Salmon Bar & Grill, Solstice Bar & Grill, Tequila 61, and Wild Scoops.
Anchorage Concerts All Access
6-9 p.m. Thursday, Sept. 20, Carr-Gottstein Lobby and Discovery Theatre
Find your new favorite restaurant, wine, and band at Anchorage Concerts All Access, a celebration of arts in Alaska. Presented by Anchorage Concert Association. 21 and older event. $50. RSVP by Sept. 19 at anchorageconcerts.org or by calling (907) 272-1471.
ANCHORAGE CONCERT ASSOCIATION
The Anchorage Concert Association is the largest arts and entertainment presenter in Alaska. With a mission to inspire and enhance community through the performing arts, the Anchorage Concert Association presents internationally acclaimed artists from the entire spectrum of the performing arts.