Comedy Legend John Cleese comes to Anchorage
---
Monty Python founder is 'not dead yet'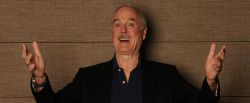 Anchorage, AK – And now for something completely different. Britain's living legend of comedy John Cleese has written, produced, directed, and starred in a plethora of comedic hits, including the British sitcom "Fawlty Towers" and the film "A Fish Called Wanda," for which he received an Oscar nomination for best screenplay. Now he's hitting the road for a leisurely walk through his life and laughs with stop in Anchorage for two shows presented by the Anchorage Concert Association on Thursday, March 16.
Recalling stories from his autobiography "So, Anyway," the celebrated co-founder of Monty Python yacks on about becoming a celebrity despite having some talent. In Cleese's very own words: "It is an evening of well-honed anecdotes, psychoanalytical tid-bits and unprovoked attacks on former colleagues."
An Evening with John Cleese
Two shows: 5:30 p.m. and 8:30 p.m. Thursday, March 16, at the Atwood Concert Hall
Presented by the Anchorage Concert Association. $48-$87.75. Tickets available at CenterTix box office and anchorageconcerts.org.
ANCHORAGE CONCERT ASSOCIATION
The Anchorage Concert Association is the largest arts and entertainment presenter in Alaska. With a mission to entertain and inspire Alaskans through the performing arts, the Anchorage Concert Association presents internationally acclaimed artists from the entire spectrum of the performing arts. Learn more at anchorageconcerts.org.
# # #