Don't be scammed!
---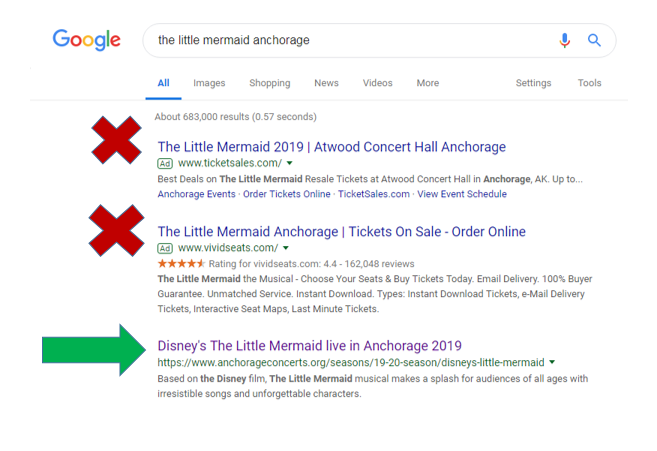 Beware of Ticket Resellers Online
Some fraudulent vendors resell tickets to Anchorage Concert Association shows through third-party websites. These resale sites often look legitimate, with the goal to deceive unsuspecting ticket buyers. There is a possibility that these tickets are not valid, and are often listed at highly inflated prices, sometimes hundreds of dollars above face value. Anchorage Concert Association does not authorize ticket sales through any resale sites or vendors.
Anchorage Concert Association and the CenterTix box office are the only official sources of Anchorage Concert Association tickets. You can find tickets for all Anchorage Concert Association shows at anchorageconcerts.org or centertix.com.
Anchorage Concert Association also sells subscriptions (tickets to any 3 or more Anchorage Concert Association shows purchased at the same time). Subscribers save up to 15% on tickets, get the best available seats and free exchanges on select shows throughout the year, and other benefits. Subscribe online or call the Anchorage Concert Association office at 907-272-1471.
All individual show tickets are available at anchorageconcerts.org and the CenterTix box office at centertix.com, 907-263-ARTS (2787) and in person in the Alaska Center for the Performing Arts.
If you purchase tickets through unauthorized third parties, we are not able to guarantee the validity of your seats and therefore cannot guarantee admittance; we cannot replace your tickets if they are lost or stolen; we cannot contact you with information regarding time changes, show cancellations or other information; we cannot issue a refund to you in case of an event cancellation.
Beware of Social Media Scammers
Scammers also pretend on Facebook and other social media websites that they have tickets they "no longer need" and people can message them if interested. Often the scammers create realistic-seeming profiles and have legitimate-sounding reasons, even going as far as saying that their mother died and now they can't go to the show.
These fake profiles do not have tickets to Anchorage Concert Association shows, and the scammers are out to steal your money. Please do not message them. We remove the posts as often as we can, but they are prolific.


Indicators that your tickets may be fraudulent (not authorized by Anchorage Concert Association):
Look for words like "third party," "resale," or "marketplace." This indicates that you are not purchasing directly from an official ticket source. Resale sites may also include disclaimers such as "prices may be above or below face value."


Rows are listed without seat numbers


Prices posted are higher than those found on anchorageconcerts.org and centertix.com. Note: Tickets to most Anchorage Concert Association shows are under $100.


Photos, artist descriptions, and seat maps are different from images and resources at anchorageconcerts.org and centertix.com


The ticket you receive shows a price other than what you paid.
Someone on Facebook or other social media outlet says they have tickets they don't need and you can DM them if interested.
Protect yourself
Only buy from the official ticket sources, anchorageconcerts.org and centertix.com.

Do not buy tickets from individuals selling tickets on social media outlets.
Get notifications when new shows are announced and official tickets go on sale by signing up for Anchorage Concert Association emails or following us on Facebook, Instagram, and Twitter

Watch out for phishing. Scammers try to impersonate legitimate organizations. Ticket resellers buy domain names that sound local and valid (i.e. Alaska-theater.net).

When searching for tickets online through Google or other search engines, be wary of results marked as an AD - these are paid listings and could be third-party sellers. Only visit URLs that contain anchorageconcerts.org and centertix.com.

If the performance you would like to attend does not have any available seats on anchorageconcerts.org or centertix.com, call the CenterTix box office at 907-263-2787.

Don`t leave buying tickets to the last minute - you get the best seats at the best price when you buy early.
Anchorage Concert Association and CenterTix box office are the only authorized sellers of tickets to Anchorage Concert Association shows.