Fall 2020 Shows Suspended
---
The show will go on, but we must wait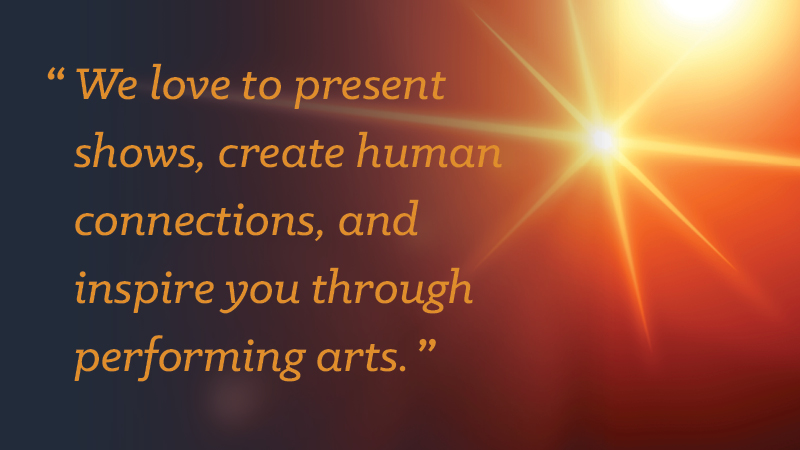 June 25, 2020
A letter from our executive director
Ordinarily at this time of year, we would be selling subscriptions, promoting new shows, and preparing for a season of events beginning in September. Unfortunately, these are not ordinary times.
In the interest of the health and safety of our community, the Anchorage Concert Association board and staff, in communication with our partners around the country and at the PAC, have made the difficult decision to suspend the presentation of Anchorage Concert Association's shows until 2021. That means we will not be presenting a traditional series of events for the remainder of this year, including our Broadway musical in October and The Nutcracker in November.
As we made this difficult decision, we considered the health and safety of our performers who must travel from outside to perform, the backstage crew that works behind the scenes, venue staff, and most of all you, our audiences. Indoor large mass gatherings are events with the potential to spread the coronavirus. If Anchorage Concert Association were able to present a show with socially distanced seating, we would only be able to have 350 people in the 2,000 seat Atwood Concert Hall, making it financially difficult to present shows. Therefore, we have determined it is best for Anchorage Concert Association and the health of the community not to present our traditional season of performances until we can gather safely in a full capacity theatre.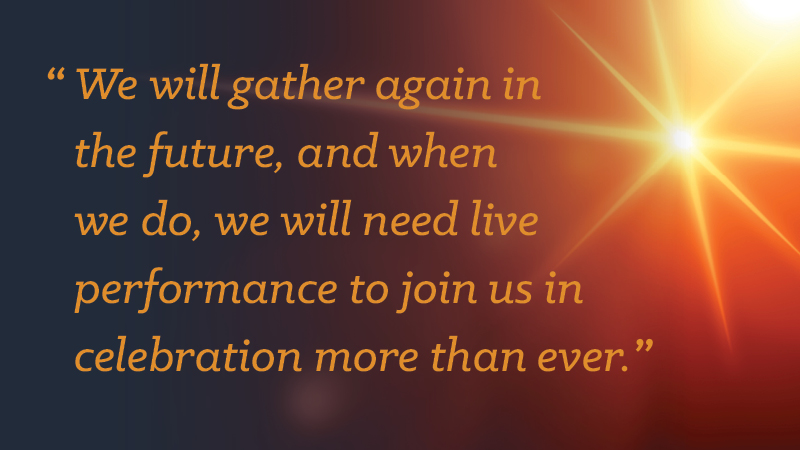 We share your disappointment in having to suspend our programming at the PAC. We love to present shows, create human connections and inspire you through the performing arts. It will be hard not doing that and not seeing you this fall. We look forward to the time when we can gather again in the Atwood Concert Hall and the Discovery Theatre to see live performances. In the coming weeks and months, we will explore other options for performances including streaming events, smaller, socially distanced concerts and gatherings throughout the community, and other ways to inspire you with the performing arts. We may not be presenting on the stages of the PAC, but we will be doing work where we can throughout the community.
Anchorage is incredibly resilient and has weathered all manner of natural disasters, economic challenges, and other adversities. As a community I know we will persevere and come out on the other side stronger than ever. Anchorage Concert Association will be here in the future presenting the arts you have come to expect and love. However, it may take a little longer than either you or I want.
I hope you'll consider making a donation to Anchorage Concert Association. Your support will enable us to explore new ways to serve the community and ensure we're ready to act when it's time to return to the theatre. If you have any questions or stories to share, you can reach our customer service team at info@anchorageconcerts.org and (907) 272-1471. We will be more than happy to assist you with information, donations, refunds, credits or other needs.
If on March 7, I had known that it would be the last time I would welcome you to a performance, I would have said to you, "Hold tonight dear. I cannot tell you when we will gather like this again. Remember this feeling — this feeling of being together experiencing something extraordinary that will connect us for a few hours. Remember that you will need this when we are able to emerge from our homes to be together. Tonight is a celebration of being with one another one last time. We will gather again in the future, and when we do, we will need live performance to join us in celebration more than ever."
With gratitude,
Jason Hodges
Executive Director
Anchorage Concert Association
HELP MAKE THE SECOND ACT SHINE. DONATE TODAY!