LA hip-hop dancers jam with Anchorage artists
---
Versa-Style Dance Company visits high schools and a hip-hop summit and jam in Mountain View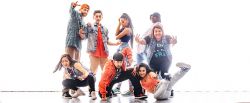 Anchorage, AK – The dancers of Versa-Style Dance Company are more than just fun to watch. They're artists on a mission: to bring people together through dance. Presented by the Anchorage Concert Association, they have two performances at the Discovery Theatre this week and will work with local community groups, students and dancers.
The Scotsman described Versa-Style as "a group of life-affirming party starters ... wrapped up in a package of energetic performance, hugely enjoyable choreography, and great musical choices!" Versa-Style fuses a variety of dance forms, from '90s Hip-hop, House, Popping, and Locking, to Afro-Latin styles, including Salsa and Merengue. Troupe founders Jackie Lopez (aka Miss Funk) & Leigh Foaad (aka Breeze-lee) have won numerous dance competition awards nationally.
In addition to workshops with students at East and West high schools and a school performance at the Discovery Theatre, Versa-Style will lead workshops and open cypher sessions and attend the Alaska Hip-Hop Dance Leadership Summit.
Workshops and Open Cypher Sessions
7-9 p.m. Wednesday, Jan. 25, Artistic Drift Gallery, Northway Mall
1-3 p.m. Saturday, Jan. 28, Mountain View Boys and Girls Club
With DJ Victamone. Free and open to the public. Ages 12 and older and some hip-hop dance experience suggested.
Public Performances
7:30 p.m. Friday-Saturday, Jan. 27-28, Discovery Theatre
Presented by the Anchorage Concert Association. Tickets available at CenterTix box office and anchorageconcerts.org.
Versa-Style performances and appearances in Anchorage are supported by Wells Fargo and the National Endowment for the Arts.
ANCHORAGE CONCERT ASSOCIATION
The Anchorage Concert Association is the largest arts and entertainment presenter in Alaska. With a mission to entertain and inspire Alaskans through the performing arts, the Anchorage Concert Association presents internationally acclaimed artists from the entire spectrum of the performing arts. Learn more at anchorageconcerts.org.
# # #