Portland Cello Project creates new album about breakup in Alaska
---
March 11 performance also features Anchorage artists Kat Moore and Momentum Dance Collective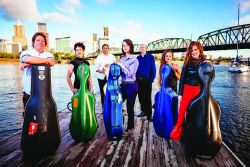 Anchorage, AK – The Portland Cello Project is no stranger to Alaska. In fact, this trip will mark the innovative string masters' third visit to the 49th state after sold-out concerts in 2011 and 2014. On March 11 in the Atwood Concert Hall, Portland Cello Project will perform from their new album inspired by their time up here: "Songs for Alaska: Spring Breakup," about both the seasonal transition "breakup" and the lovelorn variety. This one-of-a-kind performance also features Alaska artists, including Kat Moore of the Super Saturated Sugar Strings and Momentum Dance Collective.
"An undertaking of this kind is hardly surprising from a group that can bounce from Bach to Beck to Brubeck to Björk without missing a beat," said Anchorage Concert Association Marketing Director Laura Carpenter. The Anchorage Concert Association is presenting Portland Cello Project as part of their 2016/2017 season, which also includes comedy legend John Cleese and Hawaii's Kings of Swing Kahulanui.
Entertainment Weekly called Portland Cello Project "an ace group of rotating cellists who take on everything from Britney's 'Toxic' to the Dandy Warhols and postmodern Estonian composer Arvo Part in their one-off performances."
"This indie orchestra gives classical music a jolt of energy," says Spin Magazine.
In addition to their March 11 public performance, Portland Cello Project will lead a workshop and perform at Hiland Mountain Correction Center.
Anchorage singer Kat Moore says, "As an Alaskan artist, there's nothing more thrilling than sharing Alaska-written songs and dance paired to the scores of our talented neighbors, the Portland Cello Project. The lushness of strings and the graceful movements of the Momentum Dance Collective will undoubtedly usher in the light of spring, even as we battle the lions of a March in Alaska."
Portland Cello Project: Songs for Alaska
7:30 p.m. Saturday, March 11, Atwood Concert Hall
Featuring Gideon Freudmann, Kat Moore and Momentum Dance Collective. Presented by the Anchorage Concert Association. $33.50-$71.75. Tickets available at CenterTix box office and anchorageconcerts.org.
ANCHORAGE CONCERT ASSOCIATION
The Anchorage Concert Association is the largest arts and entertainment presenter in Alaska. With a mission to entertain and inspire Alaskans through the performing arts, the Anchorage Concert Association presents internationally acclaimed artists from the entire spectrum of the performing arts. Learn more at anchorageconcerts.org.
# # #