Students learn about America's past through jazz music
---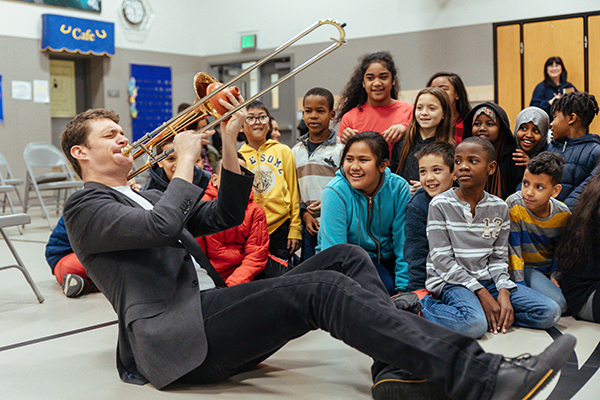 Interactive assemblies bring historical perspective to music and set history to music
ANCHORAGE, ALASKA – Sammy Miller and The Congregation spread positivity by playing shows filled with lots of laughs and jubilant jazz that just makes you feel good. Their youthful, energetic style entertains, enriches, and most of all, uplifts. Before their public concert at the PAC, the band visited Mountain View Elementary School and Colony High School to perform their Sound of America program about the history of the United States through jazz.
"Inspiration from educators, musicians, and artists has led us to our lives in music. Spreading joy and reaching students of all ages is our passion." – Sammy Miller and The Congregation
Public Performance
Sammy Miller and The Congregation, 7:30 p.m. Friday, Nov. 8, 2019, Discovery Theatre at the PAC
A native of Los Angeles, Grammy-nominated drummer Sammy Miller formed this ensemble after earning his master's at The Juilliard School. While the band members have worked with artists such as Wynton Marsalis, Iron and Wine, and Beyoncé and played venues including Lincoln Center, they've opted to stick together and bring art back to the people. Join the flock and get onboard this celebration of brassy, stomp-your-feet dance music. Presented by Anchorage Concert Association. Tickets available at CenterTix box office (263-ARTS) and anchorageconcerts.org.
ANCHORAGE CONCERT ASSOCIATION
Anchorage Concert Association is the largest arts and entertainment presenter in Alaska. As a nonprofit organization with the mission to inspire and enhance community through the performing arts, Anchorage Concert Association connects people through performance and presents internationally acclaimed artists from the entire spectrum of the performing arts. Learn more at anchorageconcerts.org.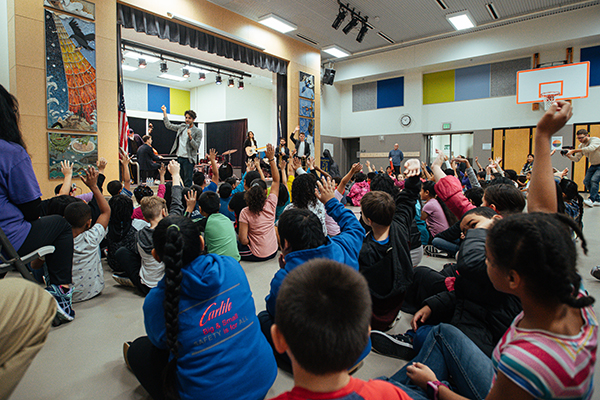 Images: Sammy Miller and The Congregation perform at Mountain View Elementary School in Anchorage. Credit: Kerry Tasker
Anchorage video by Steven Cornfield