ALAXSXA | ALASKA weaves spellbinding history and cross-cultural encounters in the 49th state
---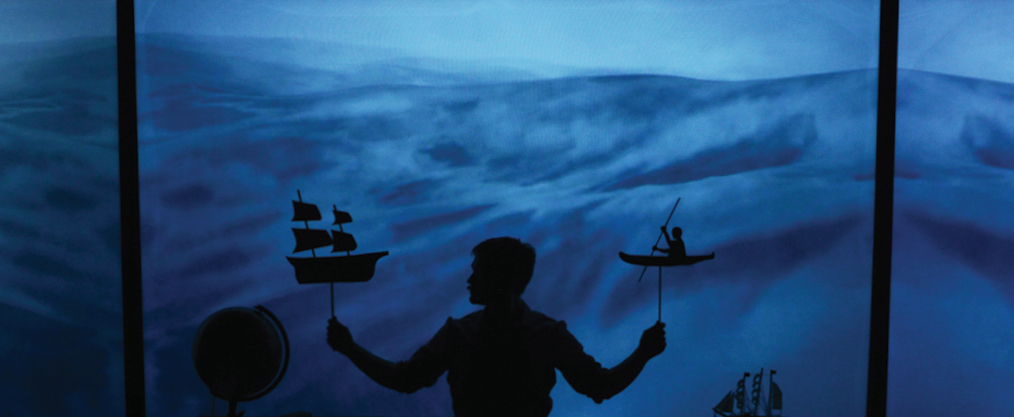 Puppetry, true stories, and Yup'ik drum and dance join to paint a powerful portrait of place
Anchorage, AK – Anchorage Concert Association is joining with community partners to bring the acclaimed theatrical production ALAXSXA | ALASKA (uh-LUCK-shkuh) back to the state that inspired it.
Innovative, thought-provoking and revealing, ALAXSXA | ALASKA weaves puppetry, video, recorded interviews, and yuraq (Yup'ik drum and dance) in a collage of striking contemporary and historical encounters between Alaska Native communities and newcomers in our state. Performers Ryan Conarro, Gary Upay'aq Beaver (Central Yup'ik), and puppeteer Justin Perkins reveal little-known histories — at times humorous, at times tragic — and juxtapose them against their own personal histories as "insider" and "outsider" in The Last Frontier.
"Cultures collide and coexist in Ping Chong + Company's sumptuous anthropological collage ALAXSXA | ALASKA. This theatrical feast bursts with vitality as vast as its subject." - Time Out New York.
As part of this production, the artists will present a special showing for students in the Elitnaurvik Within East program and a performance at the First Alaskans Institute Elders & Youth Conference on Oct. 16. The artists of Ping Chong + Company will also participate in an evening of sharing stories and food, greeting neighbors, and cultivating mutual understanding at "AKMANI: meeting each other through stories" 6 to 7:30 p.m. Oct. 2 at the Church of Love. First Alaskans Institute will also host post-show dialogue sessions in the Voth Hall at the Alaska Center for the Performing Arts after each Anchorage performance.
In collaboration of this show and as part of Anchorage downtown First Friday, an Anchorage Concerts Art Exhibition celebrates the work of Alaska Native artists, including Percy Avugiak, Allie High, Benjamin Schleifman, Drew Michael, Heather Hanak Dongoski, Tammy Holland, William Kozoloff, and Danielle Larsen, the exhibition's curator, 6-8 p.m. Friday, Oct. 5 and 6:30 p.m.-8 p.m. Saturday, Oct. 6, in the Voth Hall.
After the initial performances in Anchorage, ALAXSXA | ALASKA will go on to tour in Nanwalek, Homer, Unalakleet, St. Michael, and Stebbins.
ALAXSXA | ALASKA
7:30 p.m. Oct. 5-6, 2018, Sydney Laurence Theatre at the Alaska Center for the Performing Arts
Spellbinding history and cross-cultural encounter in the 49th state. A partnership of The CIRI Foundation, Anchorage Concert Association, Homer's Bunnell Street Arts Center, Cook Inlet Housing Authority, and New York's innovative theatre masters Ping Chong + Company. Presented by Anchorage Concert Association. Tickets available at anchorageconcerts.org
ANCHORAGE CONCERT ASSOCIATION
The Anchorage Concert Association is the largest arts and entertainment presenter in Alaska. With a mission to inspire and enhance community through the performing arts, the Anchorage Concert Association presents internationally acclaimed artists from the entire spectrum of the performing arts. Learn more at anchorageconcerts.org.