Anchorage Latino and Hispanic community celebrates visiting band La Santa Cecilia
---
Local artists create new artwork inspired by immigrant song 'El Hielo'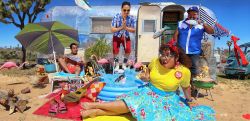 ANCHORAGE, AK – La Santa Cecilia band members started their careers by serenading passersby on Los Angeles' historic Olvera Street. Today, the group has won a Grammy, toured from coast to coast, and collaborated with legends, including Elvis Costello and Led Zeppelin's John Paul Jones. In celebration of La Santa Cecilia's visit to Anchorage, local Hispanic and Latino community members are hosting events and creating new artwork.
Named for the patron saint of music, La Santa Cecilia performs a passionate, high-energy mix of original material, traditionals, and covers in Spanish and English, at 7:30 p.m. Friday, Nov. 10 at the Discovery Theatre, presented by the Anchorage Concert Association. With songs of love, loss, and everyday struggles, La Santa Cecilia has given a soundtrack to a bicultural generation, rising to fame with the anthem "El Hielo," about the struggle of undocumented immigrants.
"In 2017, Latinx are a bigger and stronger part of Alaska than ever before. This project is important because it puts our diverse cultures on center stage. It's a testament to our collective strength in terms of influence and economic power. La Santa Cecilia's performance shares with audiences one of the best gifts Latin America has to offer, our music." said Indra Arriaga, artist and community organizer.
"La Santa Cecilia's visit provides opportunities to celebrate the diversity of our Latino and Hispanic community in positive and creative ways," said Gabriela Olmos, editor of Sol de Medianoche, one of the community partners Anchorage Concert Association is working with on this project.
Community Celebration with La Santa Cecilia | Festejo Comunitario Con La Santa Cecilia
7-9 p.m. Thursday, Nov. 9, Out North Contemporary Art House Downtown Theatre Gallery (at the Experience Theatre)
An evening of music, discussion, and visual art. Four visual artists and two poets have created a large scale mural inspired by La Santa Cecilia's song 'Ice El Hielo.' The band describe the song's mission as an expression of "empathy for Latin American immigrants, including those who were brought as children by their parents to the United States." Artwork will also be on display Friday, Nov. 10, at the public performance at the Alaska Center for the Performing Arts. Featured artists include Indra Arriaga, Carlos Pereyra, Josef Pawlikowski & Moises Llerena, Macuca, and Gabriela Olmos, with poetry by Itzel Yarger and Gabriela Olmos. Free and open to the public.
Welcome Fiesta with La Santa Cecilia | Fiesta De Bienvenida Para La Santa Cecilia
11:30 a.m.-1 p.m. Friday, Nov. 10, UAA Student Union
A short acoustic performance and informal forum to discuss social justice issues with surrounding Latin American community in Anchorage and Alaska. Free and open to the public.
La Santa Cecilia Mainstage Performance
7:30 p.m. Friday, Nov. 10, Discovery Theatre
Vamos to this modern-day creative hybrid of Latin culture, rock, and world music. Presented by the Anchorage Concert Association. Post show Q&A moderated by Indra Arriaga. Tickets available at CenterTix box office (263-ARTS) and anchorageconcerts.org.
Community events presented in partnership with Anchorage Concert Association, UAA Multicultural Center, Sol de Medianoche, Keys To Life, Out North Contemporary Art House, and Anchorage Chamber of Commerce Hispanic Organization of Latin Advancement (HOLA).
La Santa Cecilia will also perform in Juneau, Fairbanks, Cordova and Ketchikan as part of their tour of Alaska.
ANCHORAGE CONCERT ASSOCIATION
The Anchorage Concert Association is the largest arts and entertainment presenter in Alaska. With a mission to inspire and enhance community through the performing arts, the Anchorage Concert Association presents internationally acclaimed artists, from big Broadway musicals to indie bands. Learn more at anchorageconcerts.org.
# # #