Cellos rock out when Break of Reality returns to Alaska
---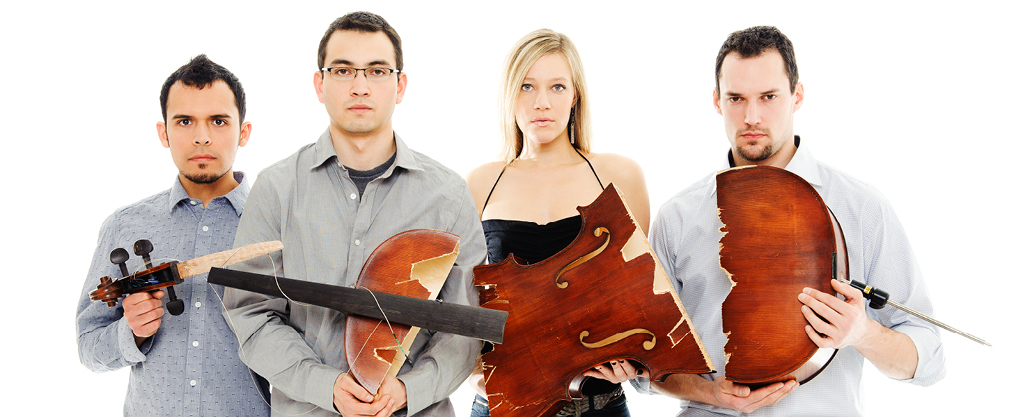 South High Orchestra joins the genre-bending quartet for sold-out show
ANCHORAGE, AK – "Classic Rock" takes on a whole new meaning when Break of Reality returns to Alaska Friday, March 29, presented by Anchorage Concert Association. The quartet blends classical technique and rock melodies into boundary-breaking cello rock music. Joining them on the stage during their sold-out 7:30 p.m. show are students from South High Orchestra.
With a sound that is cinematic, subdued, and heavy all at once, Break of Reality performs original songs, as well as interpretations of music from artists ranging from Bach to Tool and Metallica. The band has sold out concerts worldwide (including previous Anchorage stops in 2012 and 2015), and their "Game of Thrones" cover has more than 20 million views on YouTube. Fans of Led Zeppelin, Radiohead, and Yo-Yo Ma are finally getting acquainted. Break of Reality sold out on their last two visits to Anchorage. Don't miss this chance to enjoy cellos "rock out like they mean it."
Break of Reality performs at March 29 in the Discovery Theatre, presented by Anchorage Concert Association. Tickets available to the 10 p.m. late-night set at CenterTix box office (263-ARTS) and anchorageconcerts.org. Seats for the sold-out 7:30 p.m. show may become available closer to the performance.
ANCHORAGE CONCERT ASSOCIATION
Anchorage Concert Association is the largest arts and entertainment presenter in Alaska. With a mission to inspire and enhance community through the performing arts, Anchorage Concert Association creates community through performance and presents internationally acclaimed artists from the entire spectrum of the performing arts. Learn more at anchorageconcerts.org.