The New Standards Holiday Show is tradition with a twist
---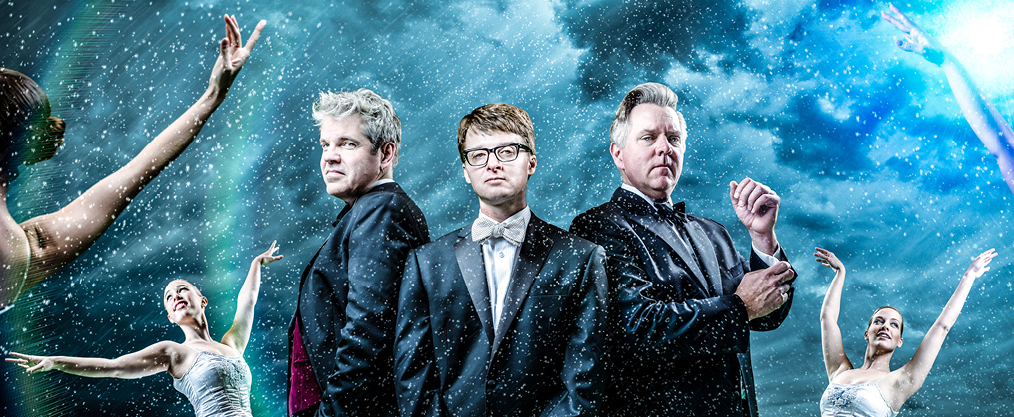 Pamyua and Super Saturated Sugar Strings join the irreverent, freewheeling spectacle
ANCHORAGE, AK – For more than 10 years The New Standards and friends have dazzled audiences around the country with their soulful, funny, and spectacular holiday show. This year, for the first time in Alaska, Anchorage audiences can ring in the yule with this unique twist on traditional holiday concerts — one part variety show, one part homage to the season, one part irreverent, freewheeling spectacle, Nov. 30 and Dec. 1 in the Discovery Theatre, presented and coordinated by Anchorage Concert Association.
Known for their simple and illuminating concerts that dress up pop and punk classics, The New Standards – Chan Poling (The Suburbs), John Munson (Semisonic), and Steve Roehm – act as ringleaders for a merry troupe of musicians, dancers, and a stunning lineup of surprise special guests featuring artists from across the country and right here in Alaska.
The Super Saturated Sugar Strings serves as the house band for this musical celebration of community, which also features special performances by and collaborations with Pamyua, Quinn Christopherson, John "Pypes" Teamer, and favorites from the Anchorage dance community.
"Audiences consider our show a more contemporary, relaxed and 'intelligent' tonic to the season, as opposed to the usual sugary stuff. You will not hear a straight version of 'Jingle Bells,'" said Chan Poling.
Performances of Anchorage Concert Association's presentation of The New Standards Holiday Show are Friday and Saturday, Nov. 30 and Dec. 1. Tickets start at $32 for adults with an Anchorage Concert Association subscription of 3 or more shows. Tickets for just The New Standards Holiday Show start at $40.25 and are available at CenterTix box office (263-ARTS) and anchorageconcerts.org.
ANCHORAGE CONCERT ASSOCIATION
Anchorage Concert Association is the largest arts and entertainment presenter in Alaska. With a mission to inspire and enhance community through the performing arts, Anchorage Concert Association presents internationally acclaimed artists from the entire spectrum of the performing arts. Learn more at anchorageconcerts.org.
Get tickets