Little Shop of Horrors devours end-of-winter blues
---
Anchorage Concert Association presents the Broadway musical Feb. 20-25 in the Atwood Concert Hall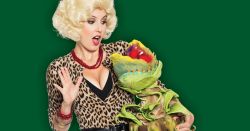 ANCHORAGE, AK – Thousands of Alaskans will fend off cabin fever as they scream with laughter during Anchorage Concert Association's presentation of the sci-fi smash Little Shop of Horrors, Feb. 20-25 in the Atwood Concert Hall. With infectious music that combines rock, Motown and Broadway, this hilarious musical has devoured the hearts of theatregoers for more than 30 years.
Not your typical boy-meets-girl story, Little Shop of Horrors is a delightfully demented rock horror comedy that The New York Times described as "Exuberant … leaves the audience ravenous for more." On Skid Row, Seymour is your average, nerdy, down-on-his-luck floral assistant. That all changes when he stumbles across a power-hungry, fast-talking plant who vows to fulfill Seymour's wildest dreams: fame, fortune, and the heart of the girl he loves. There's just one catch. The plant thirsts for human blood, and its growing pains send Seymour down a diabolical path with murderous consequences.
Howard Ashman and Alan Menken (Disney's "The Little Mermaid," "Beauty and the Beast," and "Aladdin") are the creative geniuses behind what has become one of the most popular shows in the world.
In addition to the eight public performances, Anchorage Concert Association is providing tickets to local social service agencies and their clients for a community dress rehearsal. More than 1,000 people – from military families and children in foster care to patients at a residential treatment center and individuals who experience intellectual and developmental disabilities – will have the opportunity to feed their need for musical hilarity for free with this tongue-in-cheek delight.
Local celebrities and personalities will have guest appearances for a special walk-on role, including DJs Casey B and Malie D from 101.3 KGOT, April Powers from Magic 98.9, and Dave Stieren from KFQD; TV anchor Megan Mazurek from KTVA; Mayor Ethan Berkowitz; and Olympian Holly Brooks.
The Anchorage Concert Association is also hosting a blood drive downtown for Blood Bank of Alaska, in celebration of Little Shop of Horrors. Contact Blood Bank of Alaska to register to donate. Note: Blood collected during the blood drive will help Alaska patients in need and will not be fed to any carnivorous, R&B-singing plants from outer space.
Little Shop of Horrors
Feb. 20-25, Atwood Concert Hall
Times vary
Eight shows of bloody good fun. Presented by the Anchorage Concert Association. Tickets start at $49.25 for adults and are available at CenterTix box office (263-ARTS) and anchorageconcerts.org.
ANCHORAGE CONCERT ASSOCIATION
The Anchorage Concert Association is the largest arts and entertainment presenter in Alaska. With a mission to inspire and enhance community through the performing arts, the Anchorage Concert Association presents internationally acclaimed artists, from big Broadway musicals to indie bands. Learn more at anchorageconcerts.org.
# # #