New performances added to Anchorage Concert Association season
---
Anchorage comedy fans get another chance to see Tig Notaro after first show sells out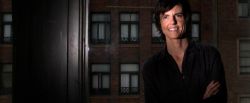 Anchorage, AK – Comedian Tig Notaro's first show in Alaska sold out months in advance so the Anchorage Concert Association has added a second performance at 9:30 p.m. Oct. 13. Cello-rock band Break of Reality, which sold out their last two visits to Anchorage, has also added a 10 p.m. late-night set March 29, 2019.
Tickets to both shows will be available as part of a 2018/2019 Anchorage Concert Association subscription of three or more shows starting 10 a.m. Thursday, July 19, at anchorageconcerts.org, in person at the Anchorage Concert Association office, 430 W 7th Ave Suite 200, and by calling 907-272-1471. Tickets will be available without a subscription starting Aug. 13 through anchorageconcerts.org and the CenterTix box office.
Tig Notaro is a groundbreaking stand-up comedian, actor, writer, producer, and director originally from Mississippi. Hailed for her effortless storytelling and fearless stage presence, her subject matter ranges from the delightfully absurd to the monumentally serious. Rolling Stone recently named Tig "one of the 50 best stand-up comics of all time."
This year, Tig and her wife/writing partner Stephanie Allynne sold the screenplay First Ladies to Netflix with Jennifer Aniston attached to star as the first female President of the United States, and Tig starring as the First Lady. In 2019 Tig will also appear opposite Oscar Award winner Octavia Spencer in the Paramount Pictures comedy Instant Family. For two seasons, Tig wrote, produced, and starred in the critically acclaimed semi-autobiographical Amazon series One Mississippi, which she co-created with Oscar Award winner Diablo Cody. The series yielded several award nominations, including WGA, GLAAD and The Critic's Choice Awards.
"Classic Rock" takes on a whole new meaning when Break of Reality hits the stage. The quartet blends classical technique and rock melodies into boundary-breaking cello rock music. With a sound that is cinematic, subdued, and heavy all at once, Break of Reality performs original songs, as well as interpretations of music from artists ranging from Bach to Tool and Metallica. The band has sold out concerts worldwide, and their "Game of Thrones" cover has more than 19 million views on YouTube. Fans of Led Zeppelin, Radiohead, and Yo-Yo Ma are finally getting acquainted.
In addition to Tig Notaro and Break of Reality, the Anchorage Concert Association, the state's largest arts and entertainment presenter, is bringing family favorites, Broadway musicals, innovative rockers, and folk heroes to Alaska for its 2018/2019 season.
ANCHORAGE CONCERT ASSOCIATION
The Anchorage Concert Association is the largest arts and entertainment presenter in Alaska. With a mission to inspire and enhance community through the performing arts, the Anchorage Concert Association presents internationally acclaimed artists from the entire spectrum of the performing arts. Learn more at anchorageconcerts.org.