Nutcracker community dress rehearsal shares joy of the season
---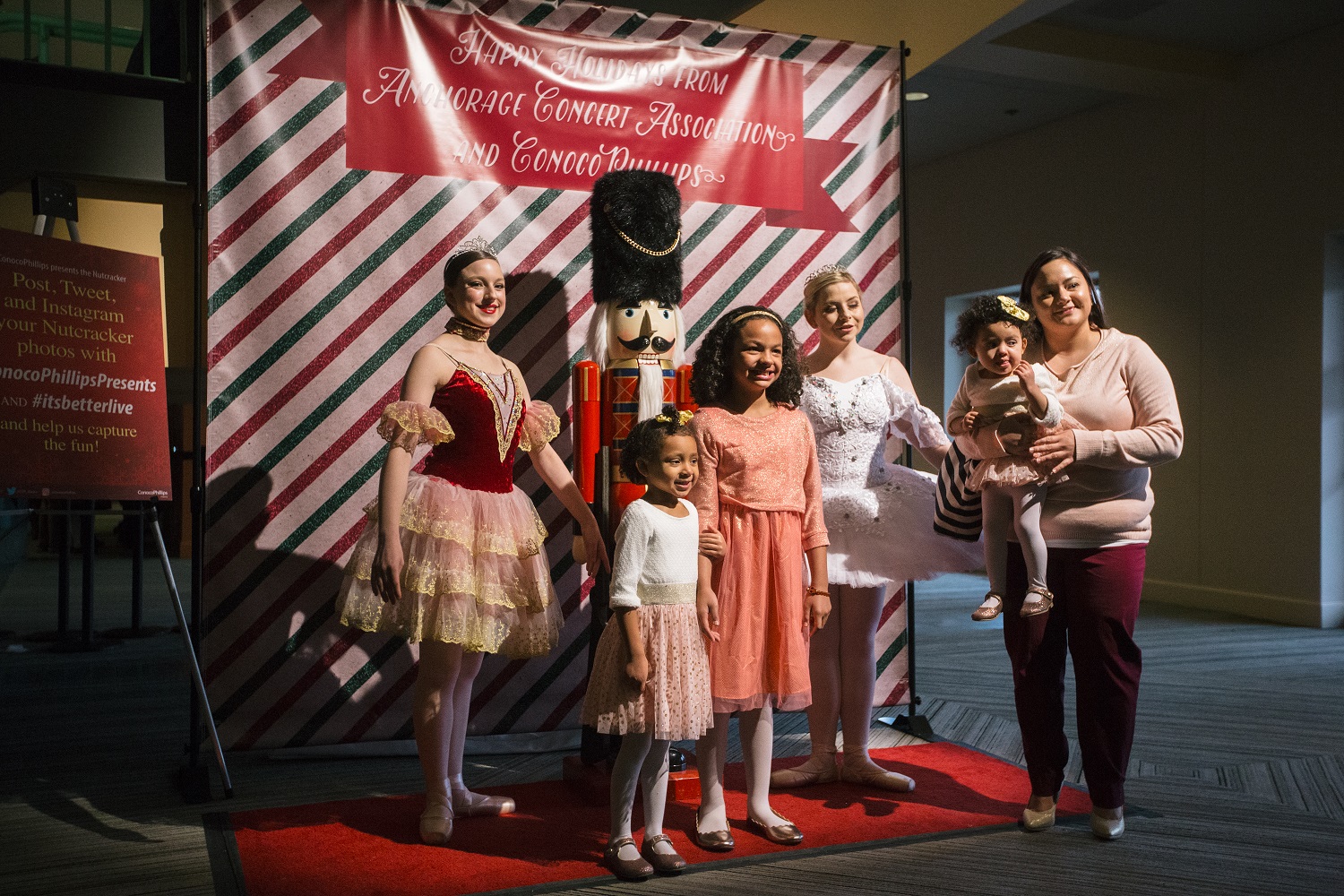 1,000+ people experience the timeless classic for free before the public performances Thanksgiving weekend
ANCHORAGE, AK – Anchorage Concert Association's annual presentation of The Nutcracker is a beloved holiday tradition for many Alaska families. Before the public performances begin Thanksgiving weekend, a special community dress rehearsal brings clients of more than 100 social service agencies together for a magical journey to the Land of the Sweets.
The Nutcracker first premiered in St. Petersburg, Russia in 1892. More than 120 years later, The Nutcracker has become a long-held Christmas tradition in America, enjoyed by families across the country. In Anchorage this year, the beautiful and elegant Eugene Ballet dances to live music from the Anchorage Symphony Orchestra, alongside more than 100 young dancers coordinate by Alaska Dance Theatre.
Anchorage Concert Association's vision is for all Alaskans to experience the performing arts, creating a more vibrant and enriched community. ConocoPhillips Alaska sponsors The Nutcracker and supports the community dress rehearsal for clients of social service agencies in Anchorage. More than 1,500 people are expected to experience the fantastical masterpiece this year for free thanks to support from ConocoPhillips. Agencies include Hope Community Resources, Anchorage Senior Center, Kids Corp Head Start, Southcentral Foundation's Native Men's Wellness, Special Olympics, and Volunteers of America. Attendees include veterans, children in foster care, cancer survivors, military families, and people experiencing disabilities.
A dance school from Dillingham is also bringing 16 students and several chaperones to Anchorage to see The Nutcracker and work with Eugene Ballet. Students from Bristol Bay Ballet 4H Club will receive a special backstage tour, meet principal artists, learn about costumes, and observe a company class prior to watching a matinee performance.
"This presentation of the Nutcracker offers young local dancers a unique chance to perform alongside professionals, while providing an opportunity to bring this classic holiday ballet to people who might otherwise never get to experience this tradition," said Portia Babcock, Director of Community Investment and Public Affairs for ConocoPhillips Alaska. "We are delighted to support this great community event and to welcome many Alaskans to the dress rehearsal."
Organizations interested in getting donated tickets for next year's Nutcracker dress rehearsal and other Anchorage Concert Association shows can email info@anchorageconcerts.org and visit anchorageconcerts.org/community.
Public performances of Anchorage Concert Association's presentation of The Nutcracker are Friday through Sunday, Nov. 23-25, Atwood Concert Hall. Tickets start at $29 for adults and $18 for youth 18 and under with an Anchorage Concert Association subscription of 3 or more shows. Tickets for just The Nutcracker start at $37 for adults and $22.50 for youth. Available at CenterTix box office (263-ARTS) and anchorageconcerts.org.
The Nutcracker by the numbers
108 social service organizations invited to the community dress rehearsal
1,585 attending community dress rehearsal for free
134 Alaska dancers ages 6 to 17, including the coveted role of Fritz, Clara's troublesome little brother
58 Alaska musicians with Anchorage Symphony Orchestra
21 Alaska stagehands working on The Nutcracker behind-the-scenes
350+ volunteers who contribute their time to lobby activities, souvenirs and gifts, and ushering during the dress rehearsal and public performances
9,000+ estimated total attendees at The Nutcracker presented by Anchorage Concert Association in 2018
ANCHORAGE CONCERT ASSOCIATION

The Anchorage Concert Association is the largest arts and entertainment presenter in Alaska. With a mission to inspire and enhance community through the performing arts, the Anchorage Concert Association presents internationally acclaimed artists from the entire spectrum of the performing arts. Learn more at anchorageconcerts.org.