Sweet Honey in the Rock uplifts and empowers Anchorage with songs of love, hope
---
Anchorage Concert Association presents the a cappella legends Dec. 8 in the Atwood Concert Hall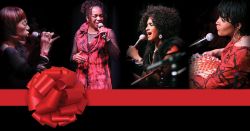 ANCHORAGE, AK – The Anchorage Concert Association brings people together in hope, love and peace for an uplifting concert with internationally renowned a cappella group Sweet Honey in the Rock, December 8 in the Atwood Concert Hall.
Grammy-nominated Sweet Honey in the Rock gifts Anchorage empowering holiday hymns and spiritual songs from cultures and religions across the globe. The seasonal concert celebrates good will and kindness in songs that rise from a wide range of holidays, including Christmas, Diwali, Hanukkah, Kwanza, Winter Solstice, and more. With soulful four-part harmonies, intricate rhythms, and peaceful messages, the group has taken their distinct blend of blues, gospel, reggae, and jazz worldwide, performing everywhere from Swaziland to Carnegie Hall (32 times and counting).
Sweet Honey in the Rock has been the soundtrack of global activism and soul-stirring spirituals, earning worldwide praise. Described as "unrelenting troubadours for peace and social justice," the all-female vocal group raises their voices in "hope, love, justice, peace and resistance" and has a mission to educate, entertain and empower.
"We always want people to go away feeling empowered, getting some enlightenment and to really feel like they have a voice," said Carol Maillard, a founding member of Sweet Honey in the Rock.
"Music and art can bring people together in a spirit of joy, helping us overcome our differences. Sweet Honey in the Rock's unifying messages of peace and empowerment are more important than ever," said Jason Hodges, executive director of the Anchorage Concert Association.
Sweet Honey in the Rock: Celebrating the Holydays
7:30 p.m. Friday, Dec. 8, Atwood Concert Hall
Sweet Honey in the Rock has earned worldwide praise for more than 30 years, raising their voices in hope, love, justice, peace, and resistance through a wide range of music – from soul-stirring hymns to hip-hop. Don't choose a silent night when you can empower your heart with these stunning sounds. Presented by the Anchorage Concert Association. Tickets start at $32.50 for adults, available at CenterTix and anchorageconcerts.org.
ANCHORAGE CONCERT ASSOCIATION
The Anchorage Concert Association is the largest arts and entertainment presenter in Alaska. With a mission to inspire and enhance community through the performing arts, the Anchorage Concert Association presents internationally acclaimed artists, from big Broadway musicals to indie bands. Learn more at anchorageconcerts.org.
# # #