International Guitar Night XXIII
Global guitar phenoms
---
Friday & Saturday, Feb. 17-18, 2023
7:30pm // Discovery Theatre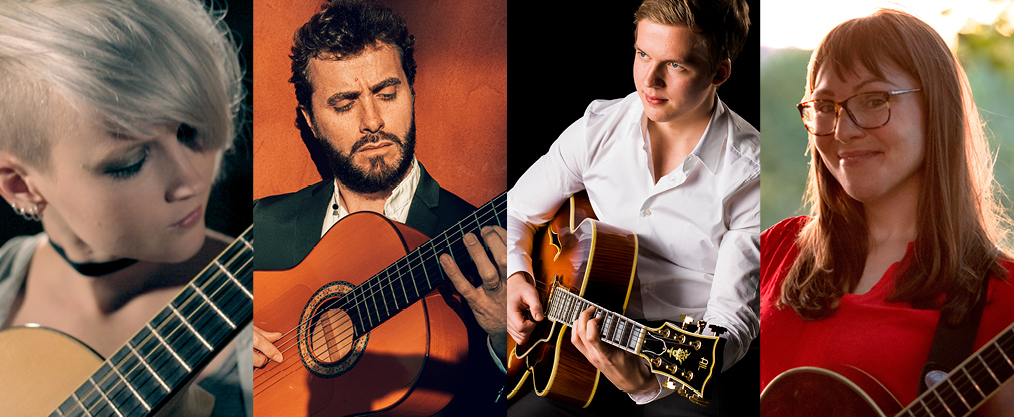 Subscribe and save! Subscription tickets start at $35.25.
Annual fan favorite International Guitar Night returns with an inspiring new cast of guitar luminaries. Now in its 23rd year, this mobile guitar festival leaves audiences across the globe awe-struck with solos, duets, and quartets that highlight the boundless virtuosity and diversity of acoustic guitar.
They are bringing back one of the guitarists from the covid-postponed 2021 tour, Canadian jazz guitarist and vocalist, and recipient of the 2021 Juno (Canadian Grammy) for Jazz Album Of The Year Jocelyn Gould.  She will be joined by Flamenco master Jesus Guerrero; contemporary classical guitarist Stephanie Jones, and Finnish guitarist Olli Soikkeli.
Get ready for a taste of the most interesting and innovative acoustic guitarists in the world.
TYPE OF EVENING:
Wow-factor date night
Music appreciation master class
International music night
WHAT TO EXPECT:
Gifted guitarists who'll leave you awe-struck
4 phenoms representing the present and future of acoustic guitar, all on one stage
A trip abroad with some of today's most talented artists
COME WITH:
Your bags packed for musical escape
Love for the universal language of music
Your favorite aspiring musician
---
Anchorage Concert Association and CenterTix box office are the only authorized sellers of tickets to this show.