Rhythm Future Quartet
Gypsy Jazz de Django
---
Saturday, March 25, 2017
7:30 pm // Discovery Theatre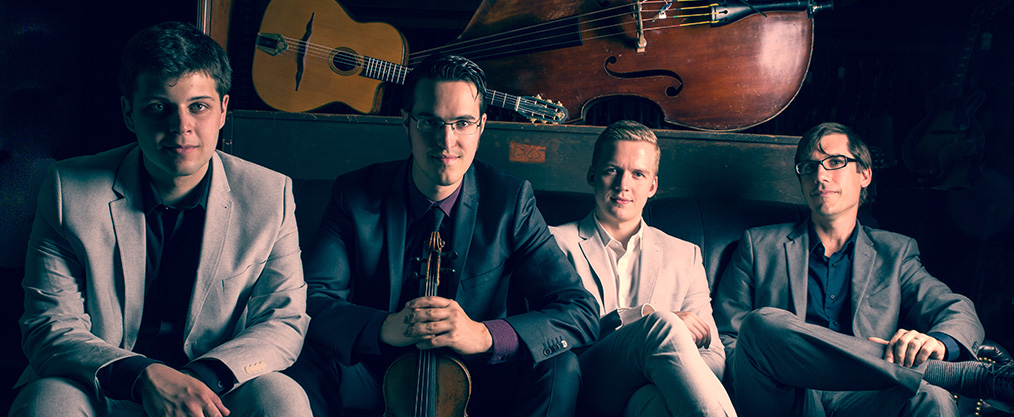 Rhythm Future Quartet is on a mission: to keep the spirit of Gypsy jazz alive and growing in the new millennium. Imagine the sound of fast-paced strings spilling out the window of a Parisian bistro. Though influenced by masters Django Reinhardt and Stephane Grappelli, who pioneered the genre in the 1930s and 40s, the foursome offers up a dynamic, contemporary take on the sound. Rhythm Future Quartet's performances are a blend of Gypsy jazz standards, original compositions, and a bit of the unexpected (a quirky cover of The Beatles' "Come Together" is on their latest album). Their musical virtuosity has been heralded widely by critics. This tour is in support of their new album "Travels" and Anchorage is fortunate to be on the itinerary.
Tickets start at $40.25.
If you like Rhythm Future Quartet, check out ACA All Access, Jamison Ross, HAPA, David Benoit Christmas Tribute to Charlie Brown, Hot Sardines, and Portland Cello Project.

Related events:
Gypsy jazz workshop with Rhythm Future Quartet - Saturday, March 25, 10 a.m. at Alaska Music & Sound, home of the Horn Doctor. Learn more and register
Pre-Concert Talk - 6:30 pm: An hour before the show, join us for a discussion on the Gypsy jazz genre with Alaska Gypsy jazz musician Adam Bartlett. You do not need to be a ticket holder to attend this talk.

Sponsored by:
Joanne & Brian Bennett