Joey McIntyre to star in Anchorage production of Cabaret
---
Broadway musical has 'the right stuff' for the New Kids On The Block singer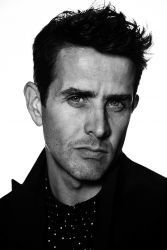 ANCHORAGE, AK – Singer and actor Joey McIntyre will welcome Anchorage audiences to the infamous Kit Kat Klub as he takes the stage in the iconic role of the Emcee during the Anchorage run of Cabaret, April 24 through 29 in the Atwood Concert Hall, presented by the Anchorage Concert Association.
"Anchorage audiences are in for a huge treat from this talented and versatile performer," said Andy Ferrara, executive producer and director of Cabaret, which is in Anchorage for one week only. "We all know Joey from New Kids On The Block, but a lot of people may not realize that he's also a very accomplished film, television and stage actor."
Set in a seedy nightclub in pre-World War II Germany, Cabaret is the Tony Award-winning musical about following your heart while the world loses its way. The score, by John Kander (music) and Fred Ebb (lyrics), remains as vibrant and relevant as when Cabaret made its Broadway debut 50 years ago. Thousands of Alaskans can hear some of the most memorable songs in theatre history live, including "Cabaret," "Willkommen," and "Maybe This Time."
In addition to selling over 80 million records and countless sold-out tours as a member of "the original Boy Band" New Kids On The Block, Joey McIntyre has enjoyed success as a solo artist, including his top ten hit "Stay The Same." His career also includes TV and film, with roles in "Boston Public," "The McCarthy's" on CBS, and the film "The Heat," starring Sandra Bullock and Melissa McCarthy. But McIntyre is happiest on stage. Since his stage debut in The Music Man at age 8 in his hometown of Boston, his love of theatre has led him to play Jon in the musical Tick, Tick...Boom!, and Fiyero in the smash-hit musical Wicked on Broadway alongside Idina Menzel, for which he received rave reviews and reunited with his co-star Joel Grey from the film "The Fantasticks." Grey won an Academy Award and a Tony for his portrayal of the Emcee in the 1972 film and 1966 Broadway production of Cabaret.
McIntyre is excited to take on one of the heaviest roles in his career. "I humbly take the reins of one of the most important shows of the last 100 years. I can't wait to help audiences 'leave their troubles outside' and draw them into the world of Cabaret," he said. "I'm thrilled to come up to Alaska and give you a wild night at the Kit Kat Klub."
Cabaret has had a long history of attracting choice talent. Liza Minelli won an Academy Award for her role as Sally Bowles in the film version, and more recently, Michelle Williams, Emma Stone and Sienna Miller have also taken their turns as the cabaret singer. Alan Cumming reignited the role of the Emcee in the 1998 Broadway revival, and Neil Patrick Harris and Michael C. Hall have also portrayed the colorful character.
In celebration of Liza Minelli's birthday on March 12, the Anchorage Concert Association is offering half-price tickets to opening night of Cabaret. This offer starts at 9 a.m. Monday, March 12, and is limited to 200 tickets. Details online.
CABARET
Times vary, April 24-29, Atwood Concert Hall
Right this way, your table's waiting at the musical the New York Post calls "one for the ages." Tickets start at $49.25 for adults and are available at the CenterTix box office (263-ARTS) and anchorageconcerts.org. A Plan-B Production, presented by Anchorage Concert Association.
ANCHORAGE CONCERT ASSOCIATION
The Anchorage Concert Association is the largest arts and entertainment presenter in Alaska. With a mission to inspire and enhance community through the performing arts, the Anchorage Concert Association presents internationally acclaimed artists, from big Broadway musicals to indie bands. Learn more at anchorageconcerts.org.
# # #