Taikoproject drums up big welcome in Alaska
---
Anchorage Concert Association organizes taiko-intensive week with the community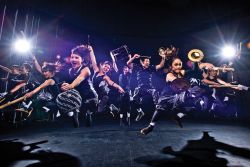 ANCHORAGE, AK – Taiko is an ancient Japanese art form, but Taikoproject artists aren't purists. The premier drumming ensemble performs a passionate, fluid, and fiery show, a thrill with every beat, Friday, March 9, in the Atwood Concert Hall, and that week in local schools, presented by the Anchorage Concert Association.
Taikoproject has recorded with Stevie Wonder, Alicia Keys, and John Legend and played at the Academy Awards and the Grammys. Their performances blend in electronic instruments, hip-hop, storytelling, and film. Taiko is where movement and rhythm are equals. Beating the large drums requires an intense physicality – musicians follow precise choreography, often bending and lunging to alternate between drums.
While in Anchorage, Taikoproject will conduct workshops for taiko players from beginning to advance levels, attend a community potluck celebrating taiko and Japan, and perform at Central Middle School, Dimond High School and Sand Lake Elementary School, in partnership with Anchorage Concert Association, the Japan Alaska Association, and local taiko ensembles Tomodachi Daiko, Inc. and Wadaiko Alaska.
"Whether you have ever been to a taiko performance or not, you will love the energy and dedication of Taikoproject. I'm glad they have chance to engage the entire community through their main show, plus school performances and workshops," said Erika Ninoyu, President of Japan Alaska Association and Band Director of Central Middle School of Science.
"Collaborations with these local groups allow the Anchorage Concert Association to serve significant portions of the Anchorage population in addition to the traditional theater experience," said James Fredrick, community engagement director of the Anchorage Concert Association.
Another artist on Anchorage Concert Association's season, Texas-swing masters The Quebe Sisters, will also share their talents with West High School in the week leading up to their public performance in the Discovery Theatre on March 10.
TAIKOPROJECT
7:30 p.m. Friday, March 9, Atwood Concert Hall
Experience the heart-pounding thunder and lightning of this premier drumming ensemble. Presented by the Anchorage Concert Association. Tickets start at $32.50 for adults and are available at CenterTix box office (263-ARTS) and anchorageconcerts.org. Join us at 6:30 p.m. for a free, pre-concert talk with Erika Ninoyu, President of Japan Alaska Association and Band Director of Central Middle School of Science.
ANCHORAGE CONCERT ASSOCIATION
The Anchorage Concert Association is the largest arts and entertainment presenter in Alaska. With a mission to inspire and enhance community through the performing arts, the Anchorage Concert Association presents internationally acclaimed artists, from big Broadway musicals to indie bands. Learn more at anchorageconcerts.org.
# # #